Light, refreshing, delicious. This no bake vegan strawberry cheesecake from exceedinglyvegan.com is perfect for a Spring or Summer treat.
Ingredients
Cake base ingredients:
150g walnuts
100g oats
25g cacao powder
6 tbsp agave syrup
1 tsp vanilla extract
Strawberry cheese cake cream ingredients:
500ml plant-based milk (soy, almond,…)
A handful of strawberries
4 tbsp agave syrup
75g corn starch
2 tsp vanilla essence
Other ingredients:
Strawberries for decoration
Mint leaf (optional)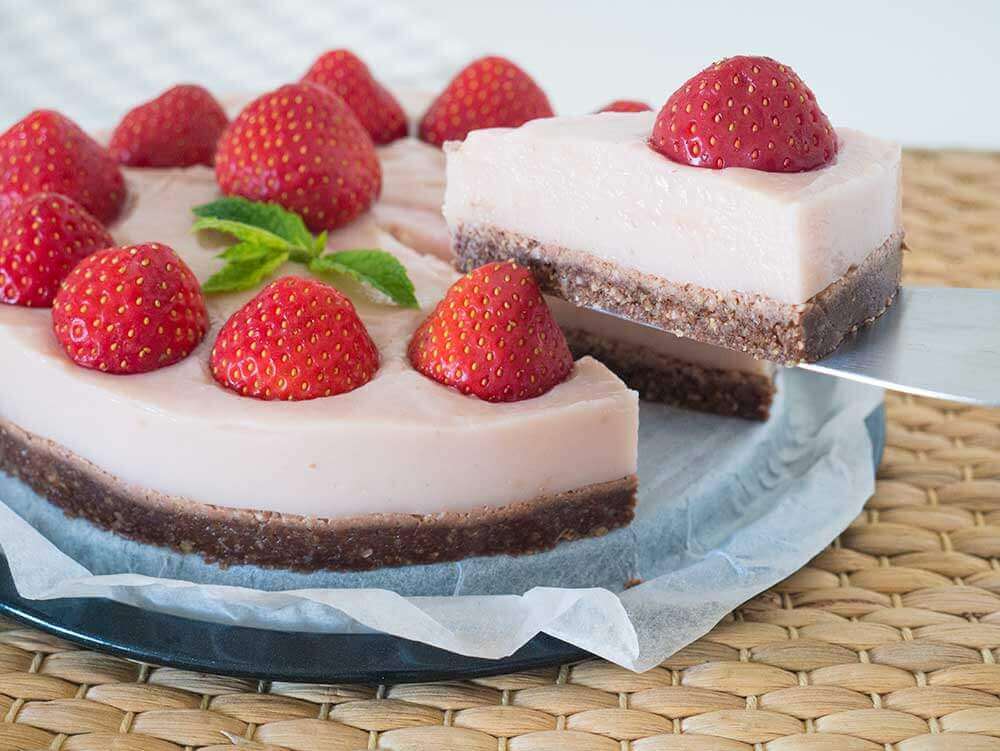 Instructions
Add all cake base ingredients into a food processor and process for roughly 30 seconds until you get a nice dough.
Line a baking tin with baking paper and transfer the dough into the tin. Push down and even out with a spoon so you get a nice flat surface.
For the strawberry cheese cake cream add all ingredients from this step into a blender and blend until you get a smooth texture. If you add a few more strawberries you can get a darker pink.
Pour the cream into a pan, heat up and stir constantly (that's important as the cream burns easily). After a while (it takes 5-10 minutes depending on your hob) the cream will thicken all of a sudden (basically the starch turns into a liquid jelly).
Pour the thickened cream into the cake tin and even out with a spatula or a spoon. Place strawberries on top for decoration. You can also add a mint leaf for the extra wow-factor.
Let it cool down in a fridge for the cream to set. This will take around 2 hours (check if it has cooled down completely though).
Take out of the fridge, remove the tin and cut yourself a nice and refreshing slice. Enjoy!