OMG this Vegan Philly Cheese recipe from HealthyHappyLife.com is sandwich heaven! They seriously did everything right with this one. It's hearty, savory, delicious and really hits the spot! You won't even remember the meat-based one after you taste this one.
Ingredients
1 large bell pepper, sliced, red or green, or both
1 small onion, sliced
1/8 tsp black pepper, + salt to taste
1 pinch cayenne, or use smoky paprika or chipotle powder – for heat
1 Tbsp extra virgin olive oil
1 cup seitan, unflavored or flavored – if using flavored, you may not need any additional salt, pepper or spices
1/2 cup vegan cheese, any flavor you'd like – choose a brand that melts well
2 large hoagie rolls
1 jalapeno, thinly sliced, optional
1/4 cup cilantro, optional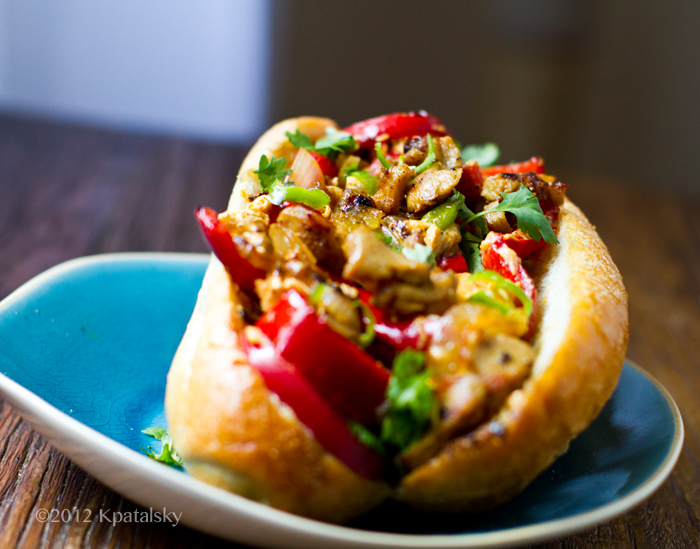 Instructions
Prep your rolls and warm in the oven to toast. Tip: brush inside and/or outside of bread with olive oil if you'd like.
Add oil to skillet and heat over high heat.
Add peppers, onions and optional jalapeno. Cook until the edges begin to blacken and the onions begin to caramelize. Add in the spices, pepper and salt.
Transfer this veggies to a plate.
While pan is still hot, add another small splash of oil and add the seitan strips. Saute until the edges blacken. Then add the veggies back into the pan and top everything with cheese. Warm until the cheese melts.
Add the filling to the toasted rolls. Garnish with the fresh cilantro. Serve hot!
Did you try this Vegan Philly Cheese recipe? How did you like it?