Want lasagna with a healthy twist. This Vegan Zucchini Noodle Lasagna by MyDarlingVegan.com is that and more. If you struggle with gluten allergies than this recipe is perfect for you. If you're looking to cut down on the carbs than you'll love it as well. This recipes offers you the deliciousness of one of our favorite Italian cuisines minus the unhealthy undertones. It's as savory, hearty and delicious as the real thing.
Ingredients
Herbed Ricotta
1 batch cashew ricotta
2 tbsp fresh parsley, chopped
1 tbsp fresh chives, chopped
1 tbsp fresh oregano
2 tbsp water
1/8 tsp pepper
Tempeh "Beef"
Everything Else
2 large zucchinis
1 jar (24 ounces) marinara sauce
1/4 cup vegan parmesan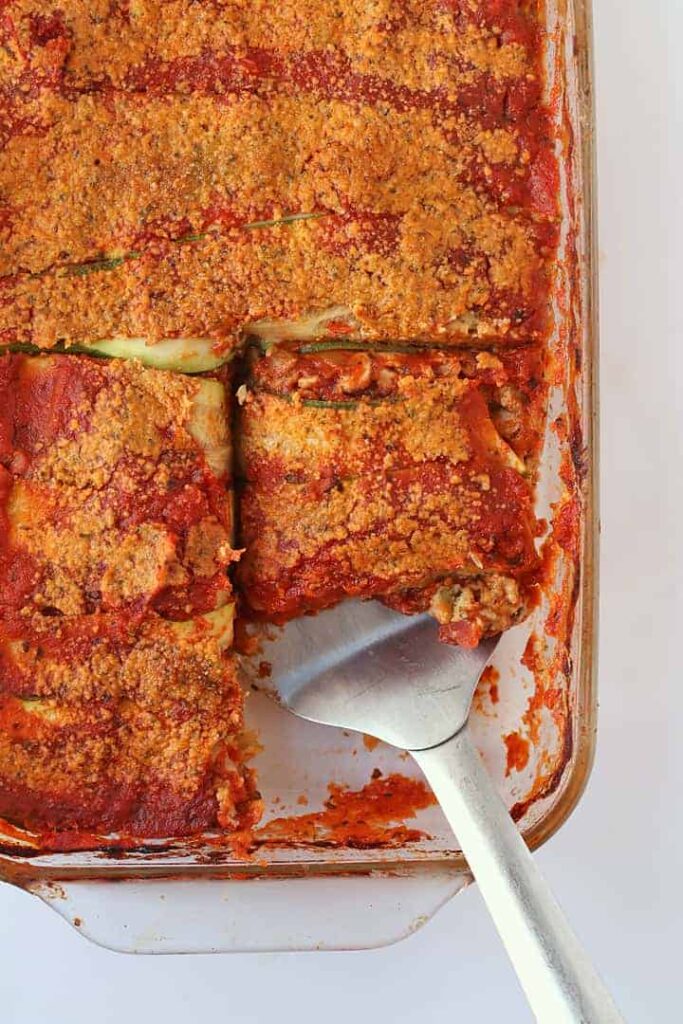 Instructions
Preheat the oven to 375.
Start by making the cashew ricotta. Once it resembles ricotta, add the remaining herbed ricotta ingredients and blend until herbs are well incorporated. Set aside until ready to use.
Crumble up the tempeh in a bowl into small pieces. Mix in soy sauce, herbs, spices, and pepper. Heat cooking oil over medium heat in a heavy bottom pan. Add onions and garlic and sauté for 5 minutes, stirring frequently, until onions are fragrant and translucent. Add seasoned tempeh and sauté until tempeh is lightly browned. Remove from heat and set aside.
Cut 1″ off each end of the zucchinis. Using a mandoline slicerset at .5mm, slice the zucchini lengthwise to get flat lasagna "noodles".
Layer a 7×11 pan with 1/2 cup of marinara sauce. Top with one layer of zucchini. Add a layer of herbed ricotta, tempeh beef, and marinara sauce in that order. Repeat once more ending with marinara sauce. Add one final layer of zucchini and marinara sauce. Top with vegan parmesan cheese.
Cover in foil and bake for 35 minutes. Uncover and bake an additional 15 minutes until parmesan is golden brown and sauce underneath is bubbling up.
Let sit 10 minutes before serving.
Did you try this Vegan Zucchini Noodle Lasagna recipe? How was it?