I am so obsessed with bowls right now. I'm not sure if its' because it's summer and bowls are super easy to prepare or if I've gotten plain lazy. Whatever the case, this Greek Goddess Bowl recipe by Minimalist Baker is a cool excuse to take it easy and be lazy. While you do you'll enjoy something that's scrumptious and delectible.
Ingredients
CHICKPEAS
1 15-ounce can chickpeas (rinsed, drained and dried well on a towel)
1 Tbsp oil (coconut or avocado are best // omit if avoiding oil)
1 Tbsp Shawarma Spice Blend (or similar spices you have on hand)
1 Tbsp maple syrup or coconut sugar (if avoiding sugar, omit)
1/4 tsp sea salt
BOWL
3/4 cup Vegan Tzatziki
1 batch Red Pepper Hemp Tabbouleh (or sub chopped parsley)
1/2 cup green or kalamata olives (pitted and halved/chopped)
1/2 cup cherry tomatoes (halved)
1 medium cucumber (thinly sliced)
1 medium carrot (optional // sliced thinly on a diagonal into "chips")
FOR SERVING optional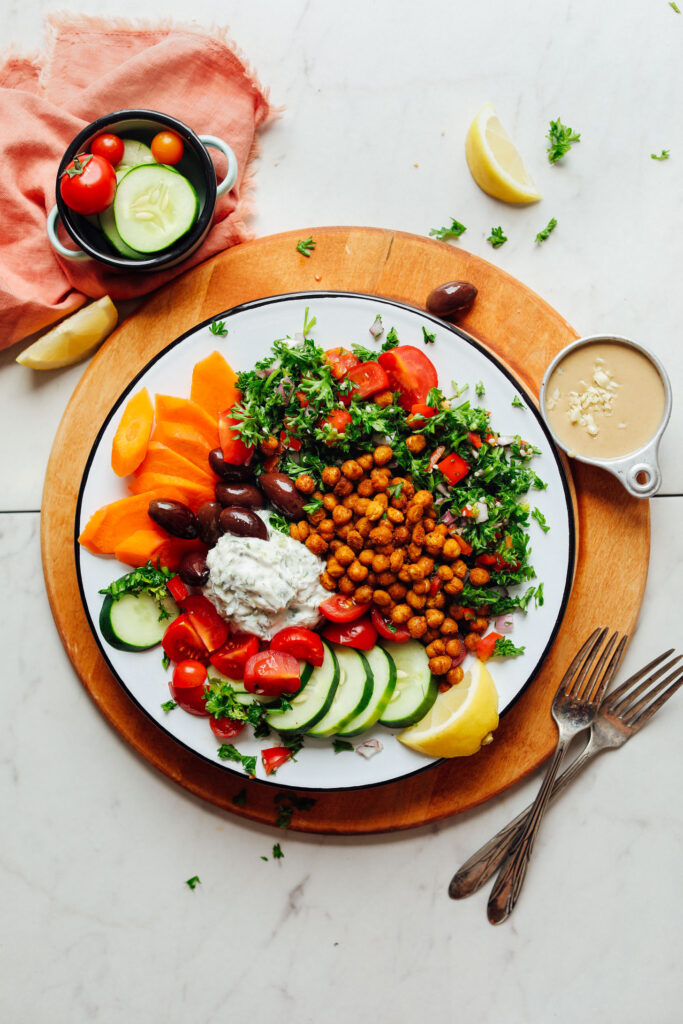 Instructions
Preheat oven to 375 degrees F (190 C) and set out a baking sheet.
Add washed, dried chickpeas to a mixing bowl along with oil, Shawarma Spice Blend, maple syrup, and salt. Toss to combine.
Add seasoned chickpeas to the baking sheet. Bake for 20-23 minutes or until the chickpeas are slightly crispy and golden brown. Remove from oven and set aside.
Assemble bowl by dividing tzatziki, tabbouleh (or parsley), olives, tomatoes, cucumber, and carrots (optional) between two serving bowls. Top with cooked chickpeas and garnish with fresh lemon juice.
This bowl is delicious as is, but it would also pair well with Garlic Dill Sauce or Tahini Dressing!
Best when fresh, but you can store leftovers (separately) up to 3-4 days in the refrigerator. Store leftover chickpeas separately in a sealed container at room temperature up to 3 days or in the freezer up to 1 month.
Did you try this Greek Goddess Bowl recipe? How did you like it?