It's summer and the strawberries are ripe and ready for the picking. So is this delicious Strawberry Coconut Vegan Cream Pie recipe by Fooduzzi. Simple and unbelievably delicious this recipe is an absolute must try.
Ingredients
The Crust
The Filling & Topping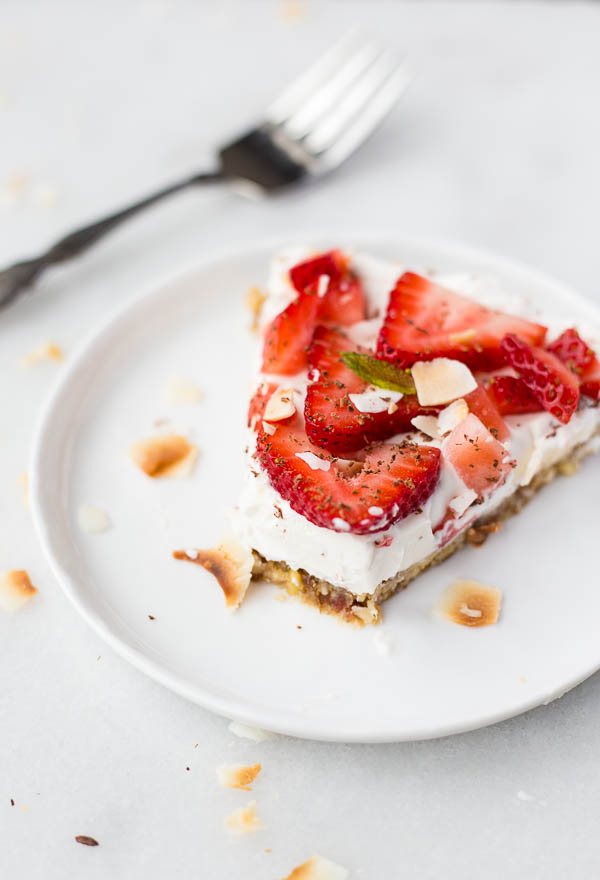 Instructions
Prepare the crust: Place drained dates, cashew pieces, and coconut in a food processor, and process until the mixture can easily be squeezed into a ball.
Line an 8-inch round cake pan with plastic wrap (you'll want some overhang so you can remove the pie later). Dump date-cashew-coconut mixture into the center and flatten it with your fingers, pressing up the sides of the pan slightly. Place in the freezer to set.
Prepare the filling: Remove coconut cream from the fridge. Scoop out the solid white part and place it in the bowl of a stand mixer (a hand mixer would work, too!). Add maple syrup and vanilla, and whip until combined, smooth, and fluffy, about 1-2 minutes. It should form stiff peaks.
Assemble: Remove crust from the freezer. Pour the filling on top, smoothing out the top with a spatula. Set in the freezer for 10 minutes.
Remove from freezer and top with strawberries, toasted coconut, mint, and chocolate. Place back in the freezer for 1 hour.
Remove from freezer and carefully remove the pie from the pie pan and plastic wrap.** Place on a plate, cut, and serve. Store covered in the fridge.
Notes
*Trader Joe's has the coconut cream near the salsas. However, if you can't find coconut cream feel free to use TWO cans of full-fat coconut milk. Refrigerate the cans overnight. Remove the cans from the fridge the next day, flip the cans over, and open them from the bottom. Pour out the liquid and save for another use. Scoop the coconut cream (the thick white stuff), and use it in place of the coconut cream in this recipe.
**The crust isn't all that sturdy, so it may be easiest to pull the pie out of the pan using the plastic wrap, and then balance it on your hand, removing the plastic wrap in the process. You could even place it on a flat surface, and then carefully slide the plastic wrap out from underneath.